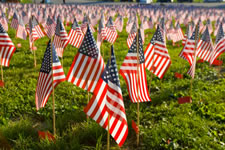 Fireworks, flag flying, parades and pool parties are all part of the tradition and fun associated with the Fourth of July. Before you start your holiday celebration, here are some tips from Alder & Cox to ensure you enjoy your independence day safely:
Fireworks Safety
Always read and follow label directions.
Never light fireworks without supervision.
Have water and a fire extinguisher nearby.
Light fireworks one at a time.
Never aim, point or throw fireworks at another person.
Parade Safety
Stake out your viewing spot early.
Leave the parade area immediately after the parade is over. Most problems arise when people linger after the parade is over.
Make sure children stay behind the barricades. They're there for everyone's safety.
Secure handbags and wallets.
Sometimes candy and trinkets are thrown from the floats. Be sure children don't run out into harm's way to pick them up. Also, examine the candy before your child eats it.
Establish a family meeting place - a street corner or in front of a store - in case anyone gets lost.
Grilling Safety
Always inspect your fuel line, burners and igniter to make sure they are in good condition.
Set your grill in an open area, away from buildings and combustible materials.
Make sure propane gas bottle is not overfilled.
Keep the grill in the shade. The sun increases the pressure in the tank, which can lead to leaks.
Clean the grill on regular basis to prevent grease fires.
Keep children away from the grill.
Keep a fire extinguisher nearby at all times.
Water Safety
Swim in a supervised, marked area with a lifeguard present, and swim with others. Never swim alone.
Enter the water feet first. Only when the area is marked for diving and clear of obstructions should you enter head first.
Children should be observed at all times around water. It's a good idea to stay within an arm's length of young children and weak swimmers while the are around the pool, lake or ocean.
Take frequent breaks (about once an hour) where everyone gets out of the water, drinks water, reapplies sunscreen and rests.
If you are caught in a rip current, swim parallel to the shore until you are out of the current. Once you are free, turn and swim towards shore. If you can't swim to shore, float or tread water until you are free of the rip current and then head towards shore.
Happy Fourth of July from Alder & Cox!