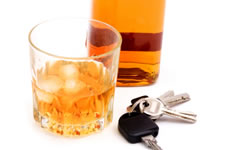 Holiday parties will abound this season. From large corporate parties at formal locations to a rowdy get-together of old friends to small gatherings of family, neighbors and friends, most of us will attend a fun one this year.
But if your hosting the party, you've got more on your mind than just what to wear and what to bring for the host or hostess. Cleaning the house, planning the menu, stock the bar - it's a lot to do! Most of us aren't going to be thinking about an insurance risk.
If you're serving alcohol to your guests, you should consider a few things to ensure your guests' safety, and limit your liquor liability and ensure you have the proper type of insurance coverage.
"Social host liability" is the legal term for the criminal and civil responsibility of someone who furnishes liquor to a guest. You may know it by "Dram Shop Liability" as well. Laws differ state-to-state, but 43 states have them. These laws give someone who is injured (like a victim of a drunk driver who was served at your party) the right to sue you. You could even face criminal charges in such a scenario.
If you're planning on hosting a party this season (or any time of the year) where you'll be serving alcohol, let us know so that we can review your insurance policy and discuss any changes to your policy that you might want to consider.
In addition to talking to us about your insurance coverage, here are some other things to consider in planning your party:
Understand your state's laws regarding social host liability, as they vary state to state.
Consider a different location other than your home for the party, like a spacious restaurant or bar.
Encourage and talk openly about having a designated driver. Have the numbers of taxi services on hand.
Limit your own consumption so that you can be more alert of your guests' sobriety.
Offer non-alcoholic beverages and food/snacks.
Stop serving liquor towards the end of your party, and offer coffee and water to guests.
Above all, be an aware and responsible host. Your party will be a great success, with or without the alcohol, as you will all be in great company, celebrating a wonderful time of year!
If you're attending holiday parties this year, we ask that you drive safely and wear your seatbelt!