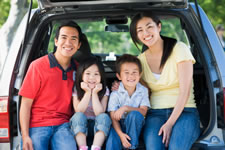 We live in an age of ongoing advancements in automotive safety, but even with mandatory seatbelt use laws and stricter DUI enforcements, motor vehicle crashes are still the leading cause of death for those between ages 3 and 43.
According to the U.S. Department of Transportation, a vehicle-related fatality occurs every 16 minutes on average. It's no wonder the vehicle industry's consumer base has become safety-minded.
According to a recent Consumer Reports survey, 65 percent of respondents said safety was their top priority among all buying considerations, trumping traditional champions such as quality, value and performance.
Furthermore, a whopping 74 percent of female respondents rate safety as their top buying concern. Fortunately these safety-minded consumers can turn to the Insurance Institute of Highway Safety for guidance.
The Insurance Institute of Highway Safety or IIHS, is a non-profit organization funded by the insurance industry. Each year, the IIHS tests hundreds of vehicles to determine which are the safest. As you can imagine, qualifying as an IIHS Top Safety Pick is no easy task. A vehicle must receive top scores for performance in front, side, rollover and rear-ended crashes based on ratings determined by the IIHS' evaluations.
Vehicles are classed in each category on a basis of "good", "acceptable", "marginal", or "poor" performance. The only drawback to this testing is that it is generally limited to only those vehicles having the highest sales volumes. Typically, vehicles such as sports cars and ultra luxury sedans aren't included in the IIHS rating system.
Visit the Insurance Institute for Highway Safety to learn more about the organization and to see a list of 2023 Top Picks.
Want to know more about your current automotive insurance policy? Contact us today for more information.